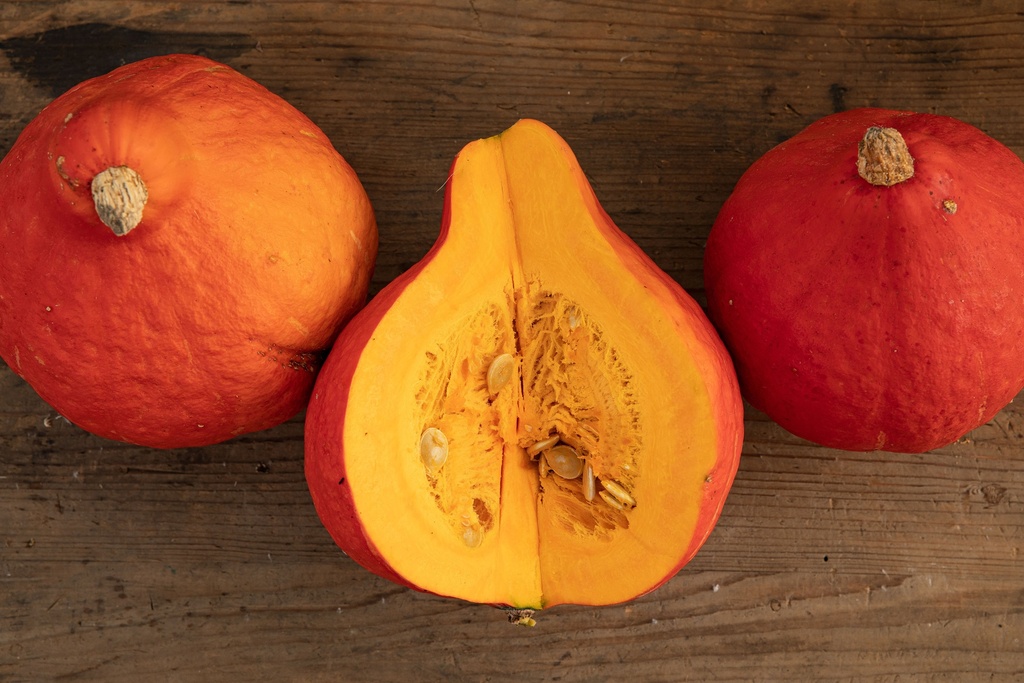 Big portions
Uchiki Kuri / Orange Hokkaido
Cucurbita maxima
Uchiki Kuri (Cucurbita maxima) make some of the best pumpkins. The small-fruited (2–3 kg) fruit has a smooth rind, firm flesh and wonderful flavour. It goes great with both sweet and salty dishes. It sprawls and creeps around the garden which adds variety to the patch.
---
Quantity

Portion

or

25 g

Family

gourd family, cucurbit family

Thousand-seeds weight (TKW)

241.765 grams
Sow from mid-April as single seeds in 10-cm pots at about 20º C. Lightly cover seeds with loose soil or sand and keep moist. Transplant into the field from May 20th at the foot of the compost pile or in nutrient-rich soil. (Beware of slug damage!) Keep free from frost. Space individual plants at 80–100 cm on all sides. Harvest before the first frost. Store in at least 15º C.
1

2

3

4

5

6

7

8

9

10

11

12

Sow

Plant

Harvest/Bloom

Sowing quantity

25

g/Are