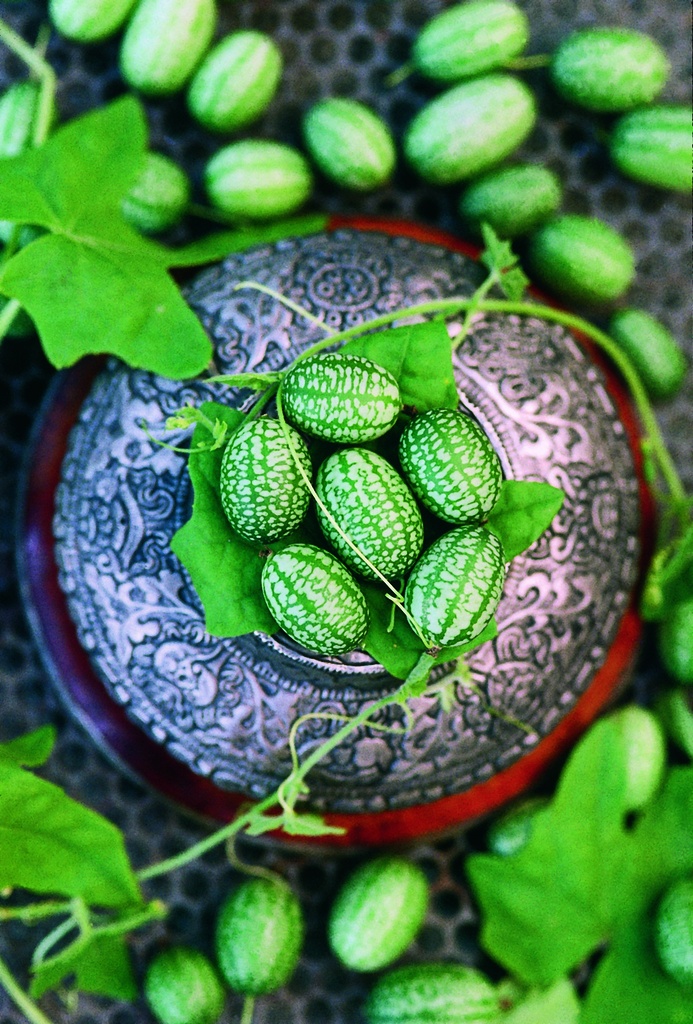 Mexican sour gherkin
Melothria pendula scabra
These rapidly climbing Melothria cucumbers look like tiny watermelons. In no time they will have climbed 150 cm. The fruit makes a perfect snack while touring your garden. You can surprise your house guests with fun salads or, even, make mini-watermelon looking pickles. This plants truly stimulates your creativity. It is a robust plants and resistant to many diseases and pests. Not only is it a beautiful ornamental, it is useful and delicious.
---
| | |
| --- | --- |
| Quantity | Portion |
| Family | gourd family, cucurbit family |
| Thousand-seeds weight (TKW) | 4.27 grams |
| Seeds per gram | 234.2 |
Sow from mid-April with two seeds in a small pot for transplants or from mid-May directly into the field. Planting 50 ✕ 50 cm spacing on all sides. Use nutrient-rich soil, compost and mulch which are very beneficial to cucumbers. Give a climbing stake for Melothria to create its enchanting network. Melothria does great on balconies.
1

2

3

4

5

6

7

8

9

10

11

12

Sow

Plant

Harvest/Bloom
Suited for balcony gardening